Okay, so I have not done anything to this site in, oh, 3 years! I am still doing research, just not as often as I used to. I'm going to try to do a redesign and maybe even a relocation of the site soon. I have other webspace. The name would change, and wouldn't be as direct, but that's cool. It doesn't really matter. I have the other space that I pay for, so I should use it :o) This began as the Kerry Family Genealogy Page, but has become more like a Natchitoches Parish, particularly the Gorum, Derry, Cloutierville area, genealogy page. EVERYONE IS RELATED SOMEHOW! :o) I am looking for any Family Histories that anyone would like to share. I would love to have ANY information that anyone would like to share on ANY of the families listed below, and even those not listed that are related. Questions, queries, etc. can be posted to the guestbook, but I get e-mail faster (ishapespaceATgmailDOTcom).
This page was last updated on January, 02 2009
PLEASE SEND ME ANY ADDITIONS, CORRECTIONS, OMITIONS, OR ANYTHING ELSE YOU'D LIKE TO SEE ON HERE. THIS PAGE IS NOT JUST FOR ME, IT IS FOR EVERYONE SEARCHING FOR THEIR ROOTS IN THE NATCHITOCHES PARISH AREA. DON'T LET THE NAME FOOL YOU. IT BEGAN FOR THE KERRY LINE, BUT IT HAS BECOME SOMETHING MUCH GREATER. I THANK EVERYONE WHO HAS SUBMITTED INFOMATION TO ME AND I WISH LUCK TO EVERYONE WHO IS DOING RESEARCH.
This page is dedicated to my search for my family's history. This page contains all of the information that I have gathered about Kerry's in Louisiana (well, all that I can put on the net for now!)
Here's a quick list of the common (occurring more than 5 times, ** indicates surnames that occur a large number of times) surnames in my file:ADELET, AIRHART, ANJUIN-DEROUEN, ANTY**, ARMOND, BASCO**, BELL, BENNETT, BOUDOUIN, BREVEL, BROSSETT**, BURKE, BYNOG**, CARNAHAN, CEDARS, CHARBONNEAU, COUTY/COUTEE**, DELACERDA, DELRIE**, DERBONNE/DERBANNE**, DUPLICHAIN, EDWARDS**, FREDERIC, GALLIEN**, GRILLET, GUYON, KERRY**, LACAZE**, LACION/LASYONE, LACOUR/LECOURT, LANGLOIS, LATTIER, LAVASPERE, LODRIDGE/LODRIGE, MARTIN, MCGLOTHLIN, MCLAREN, MELANCON, METOYER**, MOREAU, NORMAND, PADDY**, PARKER, RACHAL**, SALLARD, SCHILLING, ST.ANDRE, STROTHER, THOMASSEE**, TORRES, TROQUILLE, VAN SCHOULBROOK, VALLERY**, VERCHER, WALLETTE, & WILLIAM
This page is a large list of the birth and death dates of many persons in or closely related to the Kerry family in Natchitoches Parish Louisiana.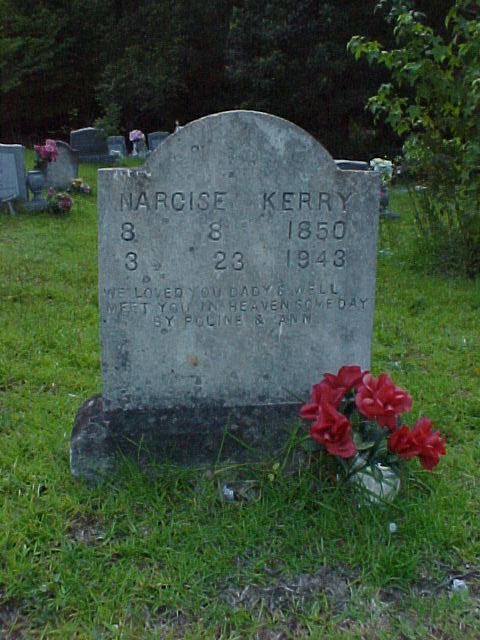 Last Updated: February 12, 2002
List of Descendants of Antoine Kerry
It's finally here! This is a GenReport of the descendants of Antoine Kerry.....and I promise it's easy to read!
Last Updated: July 28, 2004
List of Descendants of Ambrosio Basquez (Basco)
I decided to expand my GenReports that I had online. Hopefully I will be able to end up with quite a few posted.
Last Updated: March 21, 2002
List of Descendants of Jean Brossett
Last Updated: July 28, 2004
If anyone finds any errors or has anything to add to these GenReports, please let me know.
list of various marriages, including dates
Last Updated: February 12, 2002
This section contains family histories. Feel free to submit any family histories to me via e-mail. (.txt format preferred, but will accept other formats. e-mail me to see if I can read your file format)
Last Updated: June 29, 2001
This is a COMPLETE list of persons in MY GEDCOM family file. (minus living generations)
Last Updated: January 24, 2002
This is my transcription of the Gorum Cemetary taken in late 2002. I have alphabetized the listing I took, finding it is easier to find names that way. I also am listing it as a .txt file, in an attempt for a simpler, easier to read, and printg format.
Last Updated: July 28, 2004
**NOTE: In these records their are many misspellings of names and inaccurate dates. Also, the last name KERRY, is also often spelled Quierry , Keri, Cary, Carriere, Thierry, or Quierri and MANY other ways. Persons in records from Natchitoches parish La. often actually have the last name Kerry.
<<<Also, if anyone has any information any Kerry's or relatives to the the Kerry's please pass it on to me by clicking the "here" button near the bottom of this page. Thank you.>>>
*Social Security Death Index: Kerry's in Louisiana*
Genealogy Books that I Own
'Entangled Web of Bayou Pierre' by Carley Ruth Basco Wright
'Natchitoches Church Marriages: 1818-1850' by Elizabeth Shown Mills
*I am willing to do look-ups in these book.*


If you have any questions, comments, or would like to notified when information is added to this page, e-mail me by clicking here. When e-mailing me, please put GEN INFO in the subject line, so that the e-mail will not be over-looked.
Sign My Guestbook
View My Guestbook
Liked my webpage? Tell a friend!
visitors since January 8, 2002
Powered by counter.bloke.com

This page is owned, designed, and is maintained by Brittaney.
brittania81kę2002